UK raises concerns over Israel's treatment of Palestinian children
21/03/2013 06:58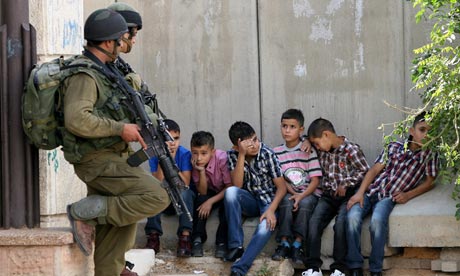 The British government has raised concerns about Israel's treatment of Palestinian minors arrested and interrogated for stone-throwing and other crimes, highlighted in an article in the Guardian.
Alistair Burt, the Foreign Office minister for the Middle East, urged Israel to address the UK government's concerns when on a visit to the country a fortnight ago.
Burt told the Guardian he had "raised concerns about the treatment of Palestinian children in Israeli detention. I urged the Israeli government to address these concerns."
Burt was also asked in the House of Commons last week about the issue of solitary confinement for Palestinian minors. Labour MP Sandra Osborne called on the government to condemn the practice and demand the release of 106 children detained in the Israeli military prison system.
In response, Burt referred to an earlier statement in which he said the practice of shackling children was wrong. Minors are routinely shackled throughout court hearings in the Israeli military justice system.
Osborne told the Guardian Israel's treatment of Palestinian minors was "unjustified in the context of human rights". She had been appalled and distressed on visits to the Israeli military juvenile court at Ofer, near Jerusalem. "No civilised democracy should treat children in that way," she said.
The Israeli human rights group B'Tselem said the state should apply the same protection to Palestinian minors in detention that it allows to Israeli children.
Read More HERE